L A N D S U R V E Y I N G
We now offer high-resolution digital aerial photography (via a drone) of your site or building. With an architect on staff, you know your building or construction site will be documented from nearly every possible angle! Give us a call for a quote; we will travel throughout most of the state of Florida! 727-447-1763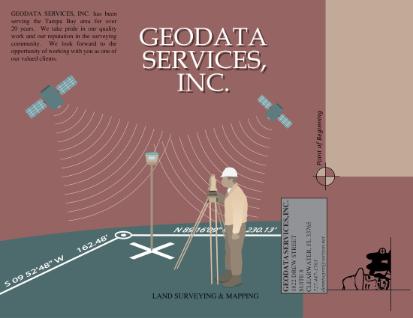 About Us
GeoData Services, Inc. has over 38 years of experience in the Tampa Bay Area. We are registered with the Federal government's Central Contractor Registration, (C.C.R.) as a small, veteran owned business.
Services
The members of our team are diverse in our surveying experience, some of which are:
Boundary Surveys
Topographic Surveys, including Photogrammetry
Preliminary Engineering Design Surveys
Control Surveys
Hydrographic Surveys for Marinas and Dredging Projects
Pipeline and Road Route Surveys
Land Surveys for Real Estate Closings
Surveys for Fence Permits
Flood Insurance Elevation Certificates
Pool Permits and Home Additions
Aerial Photogrammetric Control Surveys
Construction Staking
Aerial Photogrammetry ( goo.gl/Dxs2UQ )
Tree Surveys
We can provide field crews in any part of the State of Florida.
Qualifications
We have over 38 years of experience! If you should require a quote for any projects within the State of Florida, that may require surveying services of any sort, please do not hesitate to contact our offices at 727-447-1763. Ask for Mr. Dennis J. Eyre, P.L.S. We would be happy to prepare an estimate for Surveying Services at your request.
1166 Kapp Drive; Clearwater, Florida 33765 Phone (727) 447-1763; FAX (727) 446-4364